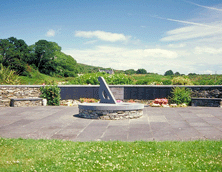 A modest memorial at Ahakista, Co.Cork, elegant in its simplicity, stands testimony to the tragedy of the crash of Air India Kanishka on the shores of the Atlantic Ocean, not far from the memorial site. The plane was blown up in mid-air not long after it took off from Montreal en route to India on June 23rd 1985 in what was perhaps one of the worst acts of terrorism, killing all 329 passengers and crew members, a majority of them Canadian nationals of Indian origin, on board.

The spirit with which the people of Ahakista and the nearby areas rose to the occasion in solidarity with the families of the victims is a saga but a story largely unknown. Apart from emergency assistance in identifying the bodies and locating and collecting the debris, they opened their hearts and homes to complete strangers and generously put them up in their hour of grief. They continue to do so to this day, over three decades later.

Out of the ruins of a tragedy, there was thus born a unique, and most beautiful, bond of friendship between the Irish and Indian peoples. 30th Anniversary Commemoration on June 23, 2015 was attended by Minister of State for External Affairs, Retd. Gen.V.K.Singh along with Foreign Minister Charlie Flanagan and the Canadian Minister for Justice and Attorney General, Mr. Peter McKay.